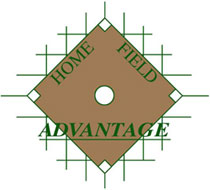 Agriculture, Turf and Ornamental
We specialize in Agricultural, Turf and Ornamental bagged and bulk fertilizer. All of our products can be custom blended and labeled to fit your needs.
Complete Soil Testing & Analysis
We offer complete soil testing and analysis. From the results of the soil test, we will make recommendations and develop maintenance programs to keep your grass in the healthiest condition possible.
Greens Grade Products
Home Field Fertilizer, Inc. carries a complete line of greens grade products. All of the granules are size compatible and graded for this application. Greens grade products include: Gypsum, Lime, Sulfate of Potash, Monoammonium Phosphate, Magnesium, 1-7-10 and Pre-emergent and fertilizer combinations.
Seed Products
We are committed to supplying products to fit your needs and offer a number of seed products: Rye Grass, Fescue, Meadowspring Sod Blend, RTF Tall Fescue Blend, Bermuda Grass, Bent Grass, Erosion Control Seeds and Forage Grass..
Custom-Blended Fertilizer
All of our fertilizers are manufactured using the finest quality products available: Nitrogen(N) - Urea, Sulfate of Ammonia, Sulfur Coated Urea, Methylene Urea Phosphate(P) - Diammonium Phosphate, Monoammonium Phosphate Potassium(K) - Sulfate of Potash, Muriate of Potash.
We stock the following bagged products and can custom blend any fertilizer: 15-20-10, 16-4-8, 10-10-10, 15-30-15 and 19-19-19.
All of our fertilizer products are bagged in plastic, shrink wrapped and palletized. Our commitment to quality ensures that there is minimal clumping. The bagged products are in 50 pound bags, packaged 40 bags (1 ton) to a pallet and are kept under cover until pick-up.
Custom Applications
Home Field Fertilizer, Inc. can also do custom applications for large quantities of fertilizer and lime. We can easily do custom fertilizer applications on pastures as well as golf courses. Our trucks are equipped with computerized equipment to ensure that the application is what you need and where you need it applied.
17820 The Glebe Lane, Charles City, Virginia 23030
(804)829-2696 | Toll Free (866)829-2696
Take the Home Field Advantage and Use Professional Quality Fertilizers